POPPIES IN SANTA YNEZ VALLEY
Have you noticed the bright red and orange patches covering some of our mountain tops in the Santa Ynez Valley? They are bold patches of poppies exploding on the hillsides! So why are the blooms so prolific this year, even after a lackluster El Nino? In this article we'll discuss what causes a super bloom and give instructions on how to hike Grass Mountain and discover the beauty for yourself.
WHAT CAUSES A SUPER BLOOM OF WILDFLOWERS?
In order to have a super bloom, the summer needs to be dry – otherwise, too much vegetation will choke the germination of seedlings in the Fall. The temperature needs to be just right between September and December when seeds germinate. A triggering rain of at least one inch needs to occur in this window. The Fall rain must be followed by regular but well-spaced showers until the end of March. Spring temperatures need to be warm, but not hot enough to scorch the new seedlings.
THE MOST SPECTACULAR DISPLAY IN 30 YEARS
This year in our precious Santa Ynez Valley, everything has orchestrated perfectly to create this truly awe-inspiring event. Locals are saying they haven't seen such a display in over 30 years.
To get there: Drive out to Figueroa Mountain Road, past the Neverland Ranch. Midland Middle School will be on your right. Stop into the middle school on the right to pick up a self-issued permit. After collecting your permit, continue another mile down Figueroa Mountain Drive. Just after you drive over the cattle guard you will see a dirt turn out and a red hiking sign that says Midland School Trails – this is the start of the trail.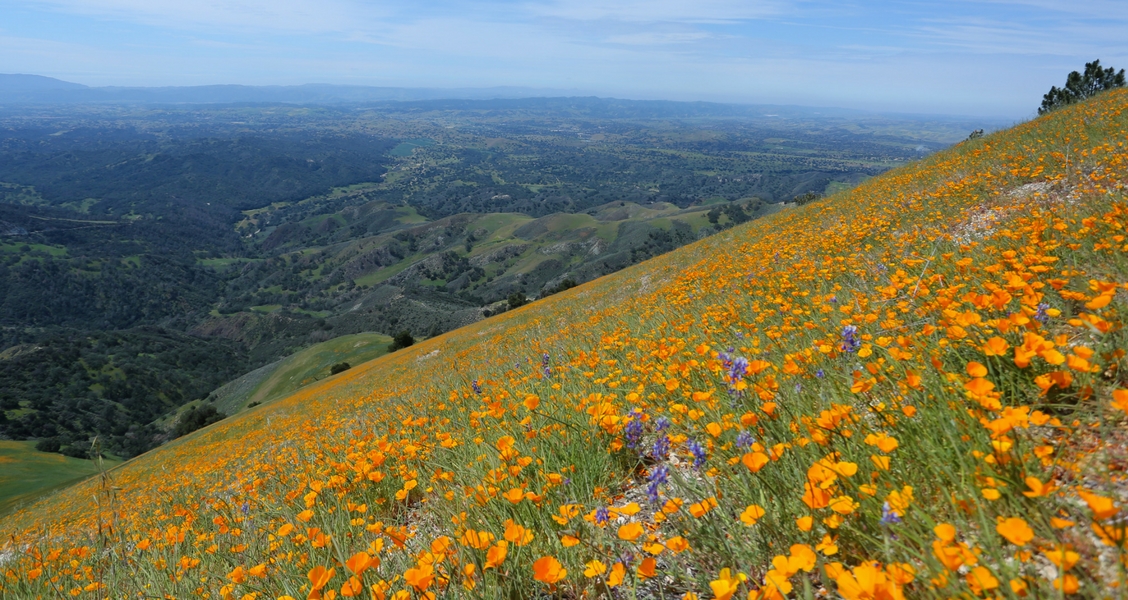 THE STEEP CLIMB UP GRASS MOUNTAIN
Staying to the left you will cross a running creek several times. The trail is 4 miles round-trip to the summit and is an elevation gain of 2,000+ feet. Plan for at least four hours round-trip to allow time for breaks and photos. The final ascent is steep but the views will leave you speechless. As far as the eye can see, poppies cover the hillside with the most intense color of bright red-orange.
Each hiker we passed was overjoyed – sharing the trail with their friends, family, or dogs – taking pictures left and right and trying their best to relish in the moment. If you want to enjoy the fields with a smaller crowd, try going mid-week and start early – but be quick – the blooms are in their peak now which will only last around two weeks.
Thank you to local photographer, Trine Bell, for her stunning images. Enjoy aerial footage of the super bloom below!
If you enjoyed reading this article please add your name to our mailing list HERE. You will be the first to know when new and limited release wines are available, along with fun updates of what's happening on the ranch.