WHY GRENACHE?
Would it surprise you to know that Grenache is one of the world's most popular grapes? It is responsible for some of the most delicious wines in the world. The most well-known (and possibly most delightful to pronounce: Shaw-toe-newf-dew-pop) Chateauneuf du Pape, a Grenache based, Southern French blend can fetch up to $600 a bottle.
The right Grenache can be hard to find. It is often blended, not allowed out on its own, and incautious winemakers can leave the grapes too long to ripen resulting in a high alcohol, syrupy mess. But when done right, this varietal is light and delicious with a lower alcohol content that is easy and delightful to drink.
FOUR WAYS TO ENJOY GRENACHE
Deciding what foods to enjoy with your favorite wines can be a challenge. But when it comes to Grenache, its light color, fine tannins, and supple texture make it a fun wine to drink and pair. Here are four, foolproof tips for pairing.
1.) ON ITS OWN
This wine is the perfect way to welcome your dinner guests or to enjoy as you sit at a restaurant bar and wait for your table. It's supple tannins and light acidity means it goes down easy (maybe too easy) leaving a lush and velvety finish. We love opening a bottle outside, before dinner, during that golden hour when the light is spilling through the valley just before sunset. The absence of food allows all of the attention to be on those gorgeous floral aromas and soft cherry flavors.
2.) A LITTLE SPICE IS NICE
A portion of our Grenache was naturally fermented whole cluster resulting in the grape stems adding some gorgeous, subtle, warm and spicy notes. Complementing these notes by pairing alongside dishes seasoned with coriander, cardamom, garam masala, white pepper, or allspice will be a sure hit.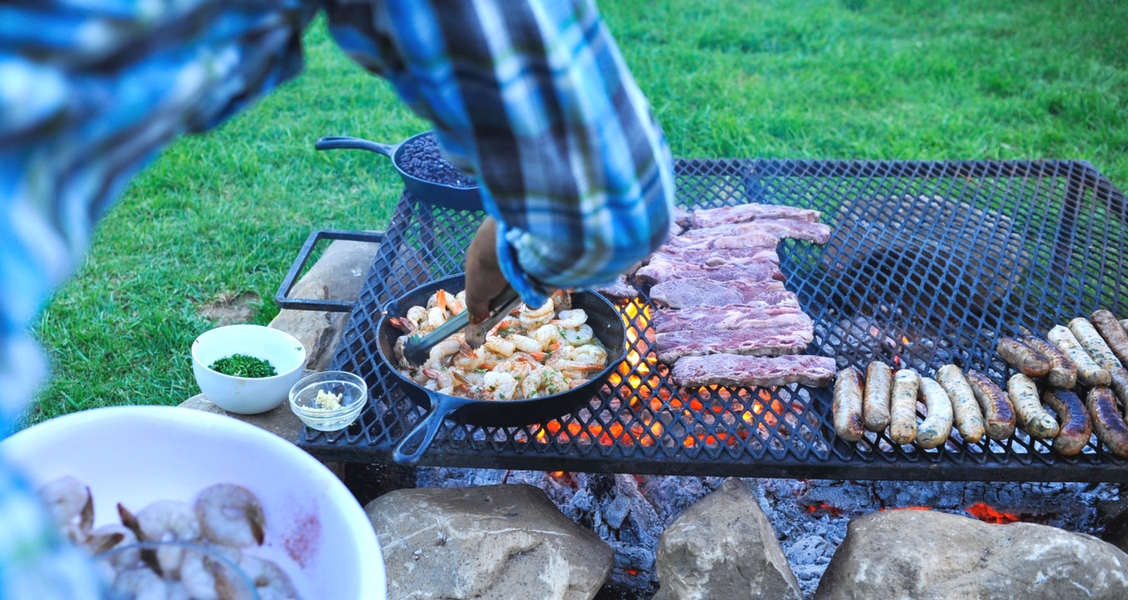 3.) GRENACHE LOVES SMOKE
Grenache pairs beautifully with foods that have smoky or charred flavors, like savory, grilled meats, smokey BBQ sauces, and even grilled veggies. An integral part of life at Folded Hills is enjoying produce when it is in season, ripe for picking and bursting in flavor. But pairing wine with green veggies can be tricky because of their bitter notes. So, if you are serving greens with dinner, throw them on the grill. The green bitter notes will soften and the subtle charred flavors will beautifully complement every sip.
4.) SAVE ROOM FOR DESSERT
Pairing wine with dessert is tricky since a general rule of thumb is to be sure the wine has as much (or more) sweetness than the food. But, we have to break the rules just this once. We're obsessed with the Grant Grenache and this homemade chocolate pavlova. Is it the raspberries, the light airy texture of the meringue, or the subtle cocoa notes that make it so dangerously delicious to finish each bite with a sip? Run, don't walk to try this scrumptious pairing.
Perfumed aromatics carry into the palate with flavors of fresh pomegranate, savory herbs and fine tannin set alongside mouthwatering acidity.
$34, minimum 1 bottle. Click Here to purchase.
Crisp, chewy chocolate meringue base, nuggets of chopped plain chocolate, topped with Farmstead raspberries: pair with Grant Grenache for the ultimate combo. Click Here for the recipe.
If you enjoyed reading this article please add your name to our mailing list HERE. You will be the first to know when new and limited release wines are available, along with fun updates of what's happening on the ranch.